Library


The Library of the College is one of the best and the biggest library in the State. It has over 52000 books and a large number of law reports and journals. The Faculty Library caters to the needs of students and researchers engaged in legal studies and intensive research. Library has the proud privilege of producing the best of teachers, researchers, scholars, legal luminaries and jurists. The Library uses LIBSOFT, (Library Software) for the issue and return of the books with the bar code method. It is about 5340 sq.ft. An active internet facility is provided. The reading area is well furnished with reading table and chairs. There is separate section for mooters for their preparations. Card system and RF. ID system is followed for lending books and electronic equipments for same is arranged.The Library is under CCTV surveillance. Seat of the Librarian is in glass chamber. Two Photostat machines desktop with wi-fi connection is provided. Toilet facility is provided in the Library for staffs.
BOOK STATUS
General Law Books - 25370
Reference Books - 3014
Book Bank Scheme Books - 4673
UGC - 2502
Compliment Books - 254
Journals (Including Law Reports)
Bound volumes - 5887
Total Collection - 41700
Total No. of Text Books - 32799
SYSTEM OF LENDING
LIBSOFT, (Library Software) is using for lending of books. Members are eligible for borrowing books from the library as follows.
1. LLB Students - 3 Books
2. LLM Students - 7 Books
3. Research Scholars - 7 Books
4. Teaching Staffs - 10 Books
5. Book Bank Scheme Students - 5 Books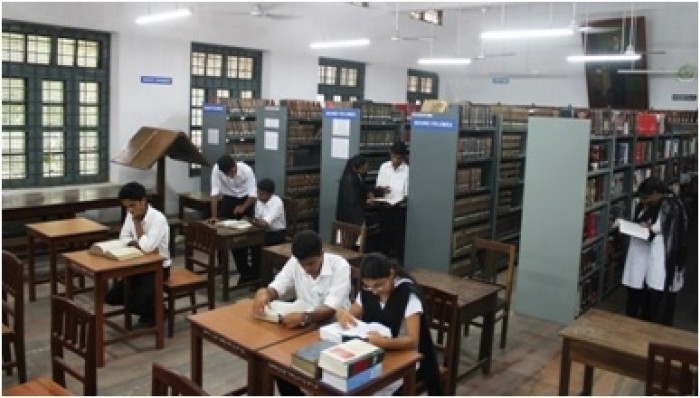 LAW JOURNAL


The Government Law College Thiruvananthapuram is the first among the four Government law colleges to publish an ISBN publication under the initiative of IQAC namely Legal WRIT. The uniqueness of this journal is that it is a compilation of peer reviewed articles exclusively by students of the college. The college is also intending to launch a Law Journal namely Journal of Trivandrum Law College (JTLC). The ISSN numbering of the journal is under processing. Under the initiative of V.R.Krishna Iyer Chair on ADR Mechanisms an inhouse working paper named La Justicia as a quarterly volume was prepared and is under circulation and dissemination. Faculties, Researchers and PG students in Law have contributed in this publication
LIST OF JOURNALS
AIR (All India Reporter)
Complete High Court Cases of Kerala
Indian Law Reports
Consumer Protection Reports
Kerala Law Decision
Kerala Law Times
Supreme Court Cases
Supreme Court Journal
Education Law Cases
Supreme Court Reports
Indian Judgment Reports
Indian Bar Review
Journal of the Indian Law Institute
LIST OF ONLINE JOURNALS
Manupathra
SCC-Heins Law Journal
AIR –till 2013 CDROM
AIR online E-Journal